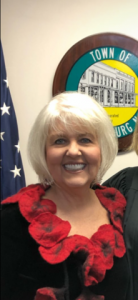 Hi!
     I am Coley Hunt Rhodes, your Mayor of Stantonsburg!  After a year in this position, I am happy to report that in spite of the Covid-19 pandemic, Stantonsburg is doing well!  Because of the pandemic, our businesses have adjusted to the social distancing, masking and curfew mandates.  Our Town Hall has also been operating on a restricted schedule.  Our park facilities have been affected.  We cancelled our Crepe Myrtle Festival, Christmas Parade and Spring Cookout.  Our life as we knew it took on many changes and we are STILL in this uneasy phase with many questions about what our future will look like!
Through it all, we have continued with a positive outlook.  With the retirement of Gary Davis, our town manager of 29 years on January 15, 2021, the board was presented with a huge challenge…to find the perfect town manager for our town!  Well…
David Beaman fits in just right!  Please go to the Town Manager page on this website to read about David's credentials and expertise.  He is already "on top of things" and welcomes your feedback and suggestions!
Thank you to the Holland family for the Blessing Box outside the town hall.  It has generated a lot of activity and has been a true blessing to those in need and to those who share.
Thanks to the Appearance and Special Events members who lit up our town for Christmas!  It was a community effort that truly brightened Christmas for lots of people!
Our Library has been power-washed and painted.
The Applewhite Building has been painted, the shelter has been "reborn"  and electricity has been added to the site.  We even have a cedar tree donated by Thad Farmer as our town Christmas tree that is still alive and well due to the efforts of Robbie Watson, Tom Goff, Dylan Reason, Spencer Floars, Eddie Evans and Jacob Whitley.
We have had roofing issues that have been taken care of (especially with our "rainy season!") on the Town Hall and Police Department.
We also purchased a new line truck (due to the death of our old one).
Paving occurred on a portion of Commercial Avenue.
 With Cares Act money, we were able to obtain Ipads for our board members and equipment to provide video/audio access to our regular monthly meetings.  It is dwindling in slowly, but in the near future we should be broadcasting so everyone will have access to our meetings.  We'll keep you informed.
We also have a Facebook page to keep everyone informed about "what's going on!"  David Beaman, our town manager is in charge of this so call the town office and help David keep everyone aware of our "goings on."
These are just a few things that have been accomplished and I am so excited to continue representing Stantonsburg as your mayor!  Thank you everyone, for taking care of each other and helping each other stay healthy.
 I welcome your ideas, concerns, suggestions, questions and visits. I occupy a desk at the Town Hall so please feel free to drop by anytime!
                   Proud to live in the "Burg!"
                                      Coley